Nick Hexum
From 311wiki
Nick Hexum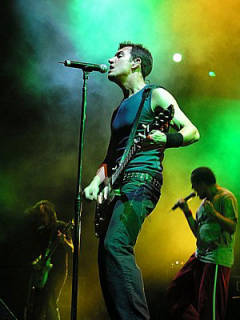 [edit]
Trivia
Performs vocal duties and plays rhythm guitar for the band 311.
Has several turntable releases, under the aliases DJ Lofton and DJ Alias.
Founded and owns What Have You Records, an independent record label where he produces artists like Pepper and his younger brother Zack Hexum.
Founded and owns a clothing company called Ginsing Clothing.
Founded and owns a non-profit organization called Liberal Hexum in 2006.
In 2004 Nick bought a private island in the Florida Keys named "Money Key." He later renamed it "Melody Key."